The 2018 Psytrance Festival Season
Published : May 14th, 2018
Categories : Default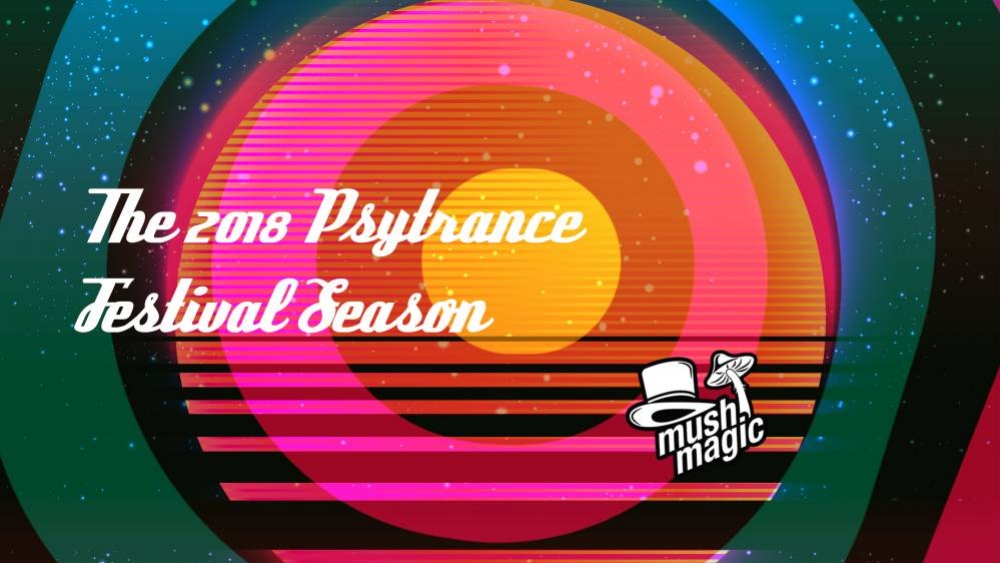 Temperatures are rising as summer approaches, and so is anticipation for the 2018 psytrance festival season. Throughout summer, there is a selection of world class psychedelic gatherings calling to the global tribe. Here are 10 of the best festivals this psyseason.
PSYCHEDELIC EXPERIENCE - GERMANY
17–20 May, 2018
The Psychedelic Experience is an outdoor festival that welcomes summer with three nights and four days of stellar psychedelic entertainment. In this bonus year, the festival falls on a Pentecost, so there is a long weekend holiday. The extra day of unwinding and revelling is going to add a unique flavour to this year's gathering. The turnout is always truly international as like minds emerge from winter to welcome in the summer with dance and exotic states of mind.
The decos have pushed themselves to the next level this year with a change in theme. We farewell the Mandala stage, which gives rise to the new Sungate central stage. This sumptuous, sound-drenched maelstrom is an altar set in a mind-blowing chunk of nature. Lakes, forests, and mountains are the ultimate ambient lounge and call out to be explored by the psyched soul.
TRIPLICITY - UK
23–29 MAY, 2018
The name slips from the tongue so easily. The Triplicity art, music, and energy festival is six days of immersive tribal melding. Music to suit every psychedelic state will be teased out on three stages over the six days. DJs from America and France, Germany, Italy, and Portugal will be casting a sonic net over this unique location in Wales. 
Discussions and workshops, art exhibitions, and landscape sculpture will fill the spaces in between. Nomads can dock their live-in spaceships and connect with other like-minded lifestyle experimentalists. There is on-site food for thought and food for nutrition, catering to all dietary philosophies. Watch astonishing sunsets from the bar with siblings from the big family.
NOISILY FESTIVAL - UK
5–8 JULY, 2018
Celebrating psychedelic culture and all that it represents brings together more than 4,000 people in the breathtaking Coney Woods. Noisily began as an underground psychedelic and electronic music event, morphing into an alternative festival that represents a growing trend for the appreciation of the transformative capabilities of psychedelics. Noisily now is a pop-up, switched-on community blueprint of what the future could be—set to some great tunes from a selection of globally respected DJs.
The Noisily, Treehouse, and Liquid stages take care of all the beat necessities. Sonic amplification of global empathy aimed at unifying the world will grind out from The Leisure Centre. Walking the talk means environmental initiatives that set the pace for all planetary citizens. Zero waste, composting, recycling, and share riding are the expected standard. The goal is to leave with increased positivity, connectedness, and optimism for the future, and to leave no footprint at all.
FLOW FESTIVAL - AUSTRIA
5–8 JULY, 2018
Flow is just as much a state of mind as a place to be this summer. To flow is to be in that particular simultaneous state, where complete emotional focus and conscious intent on the task at hand brings joy and even ecstasy. The Flow festival is a boundless space where fellow human beings can come together and enjoy time on a higher wavelength.
From the main stage, live sets of love and DJ sets of passion paint the soundscapes from the heart of the festival. Vibes are urban and organic. Flow is at the centre of a wildlife sanctuary on the outskirts of Vienna. It is quick to get there by train or shuttle. It is even quicker to forget that a metropolis lurks nearby, with quiet lakes and watercourses within walking distance.
SHANKRA FESTIVAL - SWITZERLAND
10–15 JULY, 2018
Shankra festival has music and dance at its core—two essential and primeval forces that can transcend language and culture. It doesn't matter where you are from or what you believe; when swept up by the synchronicity of energy and sound, there are known positive effects on the individual and thereby, society as a whole. Music is sourced from diverse practitioners who want to share themselves with like-minded people.
Workshops to teach rare skill sets and live performances can be found by the intrepid psychonaut. Lectures to confront and console, stimulate, and enlighten are part of the full immersion philosophy. Healing practitioners want to share their knowledge and talents with fellow travellers. Live art amplifies the creative atmosphere into a hyper visual and aural world.
PSYCHEDELIC CIRCUS - GERMANY
31 MAY–4 JUNE, 2018
Get completely unshackled and do what you want blissfully judgement-free for five straight days this early summer. Psychedelic Circus brings the who's who of international transmutational sound. From chilled treats to thumping beats, everybody will get to explore the ecstatic limits of psychedelic noise.
Quest with other seeker souls in a mutual dream under the day-glo big top. Discover fringe entertainments as you enjoy international cuisine. Casually shop for clothes or jewellery, or that souvenir that will remind you of your trip down the rabbit hole.
MO:DEM FESTIVAL - CROATIA
6–12 AUGUST, 2018
Mo:dem brings music that can be felt. The sound has been designed by specialists using leading speaker technology. The Seed, Spirallabs, and The Hive each groove to their own style as the festival unfolds. Art meets stage design is three-dimensional sculptural centrepieces for each zone. Engaging by day, mesmerising at night, the cutting-edge light shows turn each piece into star gates that welcome everyone. 
The selection of stages and areas lets you explore a broad range of musical styles, from freestyled unstructured chill to just can't keep still. The Sprillabs offer art and healing, yoga and psy-care, and delve into social and cultural explorations. The labs contain The Seed, an ambient downbeat zone where the breath is gentle and in. The Hive offers sensory overload to massive beats where the breath is ragged and out.
O.Z.O.R.A. FESTIVAL - HUNGARY
30 JULY–5 AUGUST, 2018
Over 100 artists headlined by Europe's best DJs will provide the larger than life soundtrack for O.Z.A.R.A.'s solid week of psychedelia. Separate unique spaces draw you on from one musical style to the next. Workshops between the aural assaults let everyone get involved in art, meditation, and creative expression. Hallucinatory light shows are to be expected each evening after the sun has gone down. 
Camping spaces, a cooking grove, the Helion healing sanctuary, and the Artibarn give everyone the chance to participate in ultimate activities, get well, and meet new friends in the global family. Bask in the Hungarian summer and experience the highest quality psychedelic impressions.
BOOM FESTIVAL - PORTUGAL
22–29 JULY, 2018
The Idanha-a-Nova lake provides a natural backdrop for this tribal gathering near the Spanish border. Boom hosts world class DJs and acts laying down sounds with diverse ethnic origins. This festival has a sound environmental ethos and a festival bus travelling through Europe, collecting psyched souls. 
People come from all over the continent to turn this slice of Portuguese heaven into a glimpse of the future of switched-on humanity. Art installations and chill-out gardens add to this transcendent escape from daily life.
PSY-FI - NETHERLANDS
15–19 AUGUST, 2018
Psy-Fi is celebrating its sixth year with the Shamanic Experience. Psy-Fi is unique since magic truffles are legal in the Netherlands. Everyone that attends can get the key to the Shamanic Experience door courtesy of Zamnesia, leading the way again this summer festival season by putting the psyche in psychedelic. 
Bringing the boom boom to the room and the chill for those who need to be still are a selection of world class DJs. Lose yourself in the throb of the main stage with sound quality that will lift you off your feet. Enjoy the feast for your eyes in the Artistry Plaza where psyched artists display their celebrations. The Sacred Island is there for workshops, leisure, lectures, and chilled activities. Let nature take you by the hand as you wander the gorgeous forest or enjoy the calm of the beach.