Show Your Friends What It's Like To Trip!
Published : March 5th, 2018
Categories : Default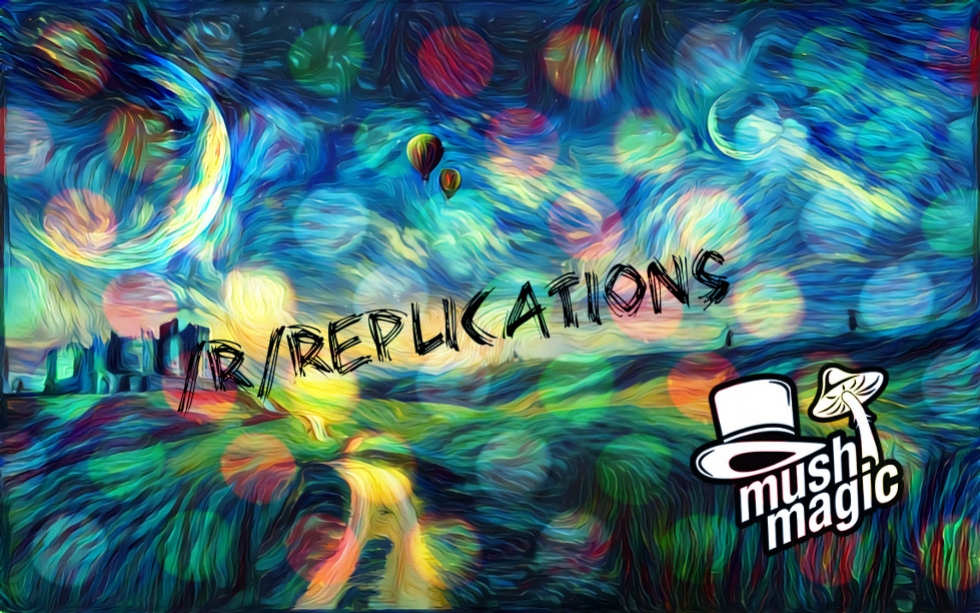 It's not easy to describe to others what it's like to trip. But some videos and images provide a good impression of the visual effects one might experience on hallucinogens. On Reddit's /r/replications/ subreddit, you can find good "trip videos" and animations to show your friends what you see while tripping.
Explaining to others what it's like to be on a psychedelic trip isn't easy. Many sensations experienced under the influence of hallucinogens simply cannot be described in words. Nevertheless, to give your friends a decent idea of what they may see during a trip, Reddit has a great subreddit where psychonauts replicate their psychedelic experiences using videos, pictures, and animations. Show your buds what it's like to expand one's consciousness! Here are some of the best trip replications we found!

MUSHROOM ALLEY - MAGIC MUSHROOMS


This one is a great replica of what you can experience on a dose of 4g of magic mushrooms. We like the accurate waving and warping of the scenery together with the subtle colour shifting. This one really comes quite close to the visuals experienced on a mushroom trip. Similar effects, like the mild warping and changing colours can also occur under lower doses (100-250µg) of LSD.
FLOWING AND WAVERING PATTERNS - LSD


This is one of our favourites. This hypnotic animation nicely shows flowing and wavering patterns that folks experience on various dosages of LSD. For some trippers, this type of effect can set in at low doses like 50µg, while others say they need much more, like 300µg, to have such an intense effect. Check out how the patterns on the curtains melt and then come down!
This is just a picture, but it's very well conceived and awesomely beautiful. Some say that this totally matches their first experience watching a sunset on LSD. "A portal in the dark night sky opened and started zooming in and out over cosmic and microscopic scales with the whole scenery having an indescribable beauty to it." Isn't this one of the best descriptions of a trip?
SHADOWY FIGURES AND FLOWING SHAPES - DPH/DATURA


This video shows a pretty accurate replication of the visual (and auditory) effects one might experience on diphenhydramine (DPH) or psychedelic plants like datura, brugmansia, or mandrake. A number of shadowy figures, odd shapes, and psychedelic patterns superimpose over the scene. The video also has the right sound to closely match such a trip.
MUSHROOMS IN WINTER - MAGIC MUSHROOMS


We think this one's pretty accurate. The video depicts some of the possible visuals that may occur after taking a good dose of mushies, then exploring the wintry countryside. The video shows smooth wavering and distortions of the snowy landscape, as well as some light after images and tracers. The creator also nailed the colours, with these pink and green fringes appearing. Although, some say they'd need a high dose to see colours like this after taking mushrooms.
PAREIDOLIA FACES - MAGIC MUSHROOMS


This one does a great job showing us the enhanced pattern recognition effect, better known as pareidolia, from tripping on magic mushrooms. This effect can also happen when sober, for example when you see faces and shapes in clouds or trees. What's special about this video is that there are no faces edited into it. You can actually get a good idea how it would really look while under the influence. Pretty accurate, we think!
EVERYTHING TURNS TO VOXELS - DMT


"Everything turns to voxels and then explodes" is a quite accurate description of what one experiences at the very beginning of a DMT trip, after the first one or two hits. This single picture shows the onslaught of geometry that is normally experienced on DMT, although an animation would probably be even more accurate.
Some say this is one the most accurate descriptions of what you see on LSD. The colours and movement of the clouds is really spot on. Watch how everything doesn't just flow, but forms a trippy, kaleidoscopic pattern. A very good replication of what you might see when tripping on a medium-high dose of acid. So good it might even trigger flashbacks!
The psychedelic patterns and colours one can experience during an ayahuasca experience are nicely replicated in this animation. Some think of the hypnotically moving snakes as being mystical protectors that guard them when they enter the realm of Mother Aya. Serpents are actually relatively common during a psychedelic experience. Some say they encounter serpent patterns when they take LSD, salvia, and other psychedelics.
This is an excellent replication of how it can be to trip on a high dose of LSD while walking through a forest. There are lots of crazy wave-like motions and distortions going on, as often happens during psychedelic trips. Notice also how the trees and everything else is a little out of focus and has rainbow-coloured fringes. Not a bad representation of an LSD trip at all!
Obviously, no video is a 100% accurate replication of what one experiences during a trip. Even the visuals themselves can vary, with some folks seeing more fractals, shadows, or geometric shapes than others. However, for explaining a trip experience to your friends, these videos, animations, and pictures do an impressive job!