About MushMagic

Our Psychedelic Story
Psilocybin is in our blood, literally! At MushMagic, we believe that good quality magic mushrooms should be readily available for anyone to sample. With that goal in mind, we've been growing them since 1998. So when psychedelic mushrooms were banned in the Netherlands in 2008, we decided to take matters into our own hands. Lead by a number of innovative and quite frankly gifted individuals, our team started growing and breeding magic truffles.
MushMagic
|

 Quality Above All

We take great pride in the quality of our product and only every use the best of the best for our babies; that includes freshly grown sclerotia with high psilocybin content. All our magic truffles must match our quality standards and are tested frequently to ensure top notch quality and freshness.

Nothing beats nature in its purest form; that is why we don't use any artificial additives or fertilizers, just sheer natural sclerotia.That means you'll get Mother Nature's best, pure and natural magic.
MushMagic | A Strain Every Mood
When you buy a box of MushMagic truffles, you can choose from 9 different types. Whichever strain you choose though, you'll receive an experience that will leave a lasting impression.
Use our star chart to decide what magic truffles suit your mood and needs, or contact our team for a personalized recommendation. Each and every single member of our team has profound knowledge and experience that we're happy to share.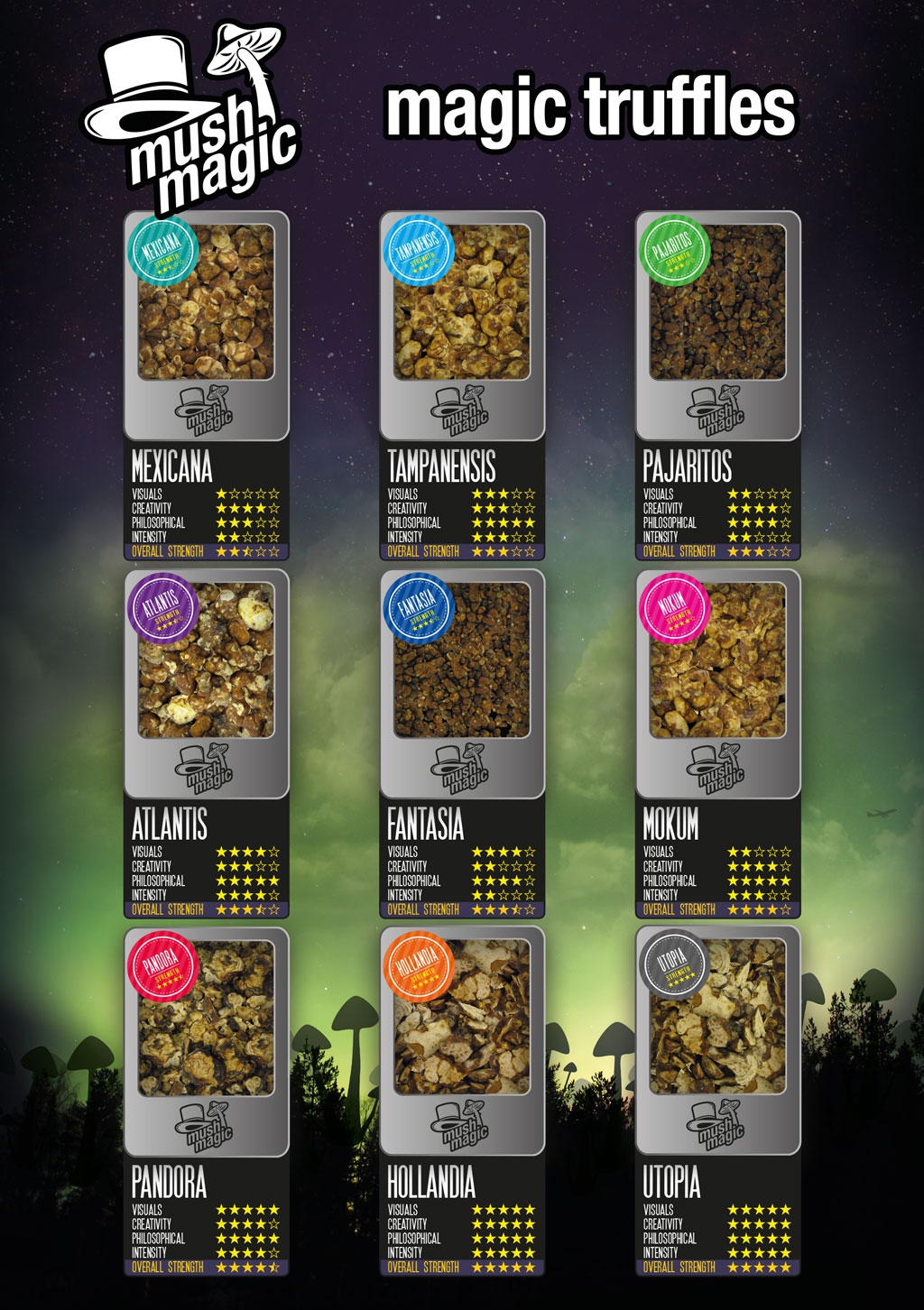 Psilocybe Mexicana | Psilocybe Pajaritos | Psilocybe Fantasia | Psilocybe Tampanensis | Psilocybe Utopia | Psilocybe Mokum | Psilocybe Atlantis | Psilocybe Pandora | Psilocybe Hollandia
We're seriously passionate about magic truffles and our varied range of MushMagic strains are set to satisfy every need. New to the scene, but looking to sample the visuals? Then you'll love our Psilocybe Fantasia, a relative mild strain that exels in its visual performnce. Stuck in a rut and want to look at things differently? Our Psilocybe Mokum and Tampanensis are famous for generating excellent philosophical trips. And of course there are the infamous Psilocybe Hollandia and Utopia; set to bring even the most experience psychonaut a life-changing experience.
Whichever strain you choose, each and every single one contains the same active substances. To generate different experiences though, the amount in which they're present vary from strain to strain.
MushMagic | Why Psychedelic Truffles?
So why Magic Truffles? Because they're fun, relaxing and inspiring. Because they bring people together, closer to nature, and provide clarity and answers to those who choose to trip alone. Because they allow us to grow and heal. And, quite simply, because they makes us happy.